Welcome to WuLongToys.com! From here you can get more information and insights into the many projects I'm working on. I love designing Toys and Games that are accessible for people at home. Whether that's modeling toys specifically for 3D printing, or creating games that can be printed and assembled at home. I'm a big-time BotHead so almost everything is going to be focused on mecha or robots. Since this is a passion project I'm always going to focus on the type of things that I, myself, would want to play with. Hopefully they're the kind of things that you'll like playing with too!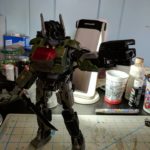 The RevoFrame Commando add-on set includes armor and weapons for
the RevoFrame Chassis
.
If you lack access or interest in 3D printing your own Commando files, then you can order physical prints here. Stock is limited and changes often so check back and keep an eye on social media channels for pre-order openings and product batch drops. We also offer custom printed orders. You specify the colors you want parts printed in, and we make it happen! Check the Production Queue schedule in the right sidebar for an idea of where we're at and how long you may have to wait.