Description
Specify the colors you want and order your Custom RevoFrame Commando! When you order you'll be sent a coloring sheet with line art of the figure and it's parts. Color the sheet and send it back and we'll put it in the production queue. Along with your color sheet, if you have requests for certain symbols (one color) to be added to the chest plate or shoulder plates we're happy to add those at no additional cost. All parts will be weathered and acetone treated unless otherwise requested.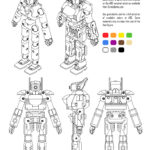 For production I use Gizmodorks ABS materials. be sure to check out their materials selections so you know what colors are available for printing parts in. Each part is printed in a single color so any additional colors per part will have to be applied by paint.
If you'd like to play around with the color sheet but aren't ready to order yet; you can grab it to the right.
When we receive your color sheet, we'll put together a render based on your color choices and send it to you. If you're unable to color the sheet yourself, I'm happy to schedule a time where we can screen share and I can color the 3D model for rendering with you looking on. Once you approve, your order will be placed into the production queue. You'll be able to see where your order is in the queue thanks to the Production Widget in the sidebar to the right. Since each custom order is printed on demand and there is no available stock, it's up to you to check the Production Widget to determine how long you're willing to wait for your items. The Production Widget shows the item as well as the order date so order accordingly.